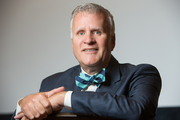 Dr. Timothy McDonald, Medical Director of Quality and Safety at Sidra Medical and Research Center, highlights benefits of implementing a comprehensive, principled approach to patient safety
Doha, Qatar, 1 July 2015: The World Innovation Summit for Health (WISH), a global initiative of Qatar Foundation for Education, Science and Community Development (QF), in partnership with Imperial College London, has held its third event in the Leading Health Systems Network's (LHSN) Safer Care Webinar Series: The CANDOR Process: Communication and Optimal Resolution, on June 30.
The webinar focused on the application of the CANDOR (Communication and Optimal Resolution) Process, a principled approach that health systems, institutions and practitioners can use to respond in a timely, thorough, and just way to unexpected patient harm events. The featured speaker is Dr. Timothy McDonald, Inaugural Chair of Anaesthesiology and Medical Director of Quality and Safety at Sidra Medical and Research Center. His research efforts have focused on the principled approach to quality, patient safety and medical-legal issues related to patient harm with an emphasis on the robust reporting of patient safety events, near misses and unsafe conditions. He was one of the lead architects for the CANDOR process tools that were discussed during the webinar. These tools were created with support from the US Agency for Healthcare Research and Quality, under the direction of the Health Research and Education Trust of the American Hospital Association.
Dr McDonald said: "The CANDOR process is a validated and tested comprehensive approach that integrates and enhances best practices from pioneering healthcare institutions for responding to harm. The tools associated with the CANDOR process are designed to: create a learning environment where patient safety and quality are improved and patient harm events are eliminated through transparency and improved communication; establish support systems for patients, families, and caregivers when unexpected events do occur; and reduce the need for accessing the legal system following unexpected events by optimal resolution."
WISH is spearheaded by Qatar Foundation to inspire and diffuse healthcare innovation and best practice. It remains closely aligned to the vision and mission of QF to unlock human potential and reinforces Qatar's pioneering role as an emerging centre for healthcare innovation.
WISH launched the LHSN Safer Care Accelerator Programme to share best practice and inspire health systems worldwide to provide safer care for patients. The year-long programme will bring together a global network of healthcare organisations to exchange insights, experiences, and data on the topic of patient safety, culminating in the publication of a global report. So far, 18 organisations spanning six continents have joined the effort, including Hamad Medical Corporation and Sidra Medical & Research Center from Qatar.
Mr Egbert Schillings, CEO of WISH, said: "The CANDOR model offers multiple benefits to healthcare systems, including reducing patient harm and supporting patients and their families through effective communication, transparency and learning. Our LHSN Safer Care Accelerator aims to disseminate best practice to help healthcare stakeholders improve the quality and safety of care within their systems. We are delighted to have key local healthcare partners, including HMC and Sidra, joining our growing LHSN network."
The Safer Care Accelerator Programme is part of WISH and Imperial College London's LHSN initiative. Established in 2009, LHSN has worked with 21 health systems in 11 countries helping them to overcome the challenges they face in providing high-value care to the populations they serve. Members of LHSN compare performance relative to their peers, learn from experts and frontline implementers during webinars, and are active members in a community committed to care improvement and innovation.
To download the WISH report on Patient Safety and learn more about WISH, please visit: www.wish.org.qa. To join the webinar series, please contact the team at: [email protected]

ENDS
Notes to Editors:
For more information please contact:
Noha El Afify
WISH Communications Manager
[email protected]

About the World Innovation Summit for Health:
The World Innovation Summit for Health (WISH) is a global healthcare community dedicated to capturing and disseminating the best evidence-based ideas and practices. WISH is an initiative of Qatar Foundation for Education, Science and Community Development (QF) and is under the patronage of Her Highness Sheikha Moza bint Nasser, its Chairperson.
The inaugural WISH Summit took place in Doha in 2013 and convened more than 1,000 global healthcare leaders. Through international summits and a range of on-going initiatives, WISH is creating a global community of leading innovators in healthcare policy, research and industry.
Together, they are harnessing the power of innovation to overcome the world's most urgent healthcare challenges and inspire other stakeholders to action.

Qatar Foundation – Unlocking Human Potential
Qatar Foundation for Education, Science and Community Development is a private, non-profit organisation that is supporting Qatar on its journey from a carbon economy to knowledge economy by unlocking human potential for the benefit of not only Qatar, but the world. WISH was co-founded in 1995 by His Highness Sheikh Hamad Bin Khalifa Al Thani, The Father Amir, and Her Highness Sheikha Moza bint Nasser, Chairperson of QF.
QF carries out its mission through three strategic pillars: education, science and research, and community development. QF's education pillar brings world-class universities to Qatar to help create an education sector in which young people can develop the attitudes and skills required for a knowledge economy. Meanwhile, its science and research pillar builds Qatar's innovation and technology capacity by developing and commercialising solutions through key sciences. Finally, its community development pillar helps foster a progressive society while also enhancing cultural life, protecting Qatar's heritage and addressing immediate social needs in the community.
For a complete list of QF's initiatives and projects, visit http://www.qf.org.qa 
For more information about Qatar Foundation please contact our press office at: [email protected]