The Word Innovation Summit for Health (WISH) was pleased to participate in the Middle East Forum on Quality and Safety in Healthcare, which was held in Doha, Qatar, 13-15 May 2016. The forum brought together senior experts from around the world to discuss mechanisms to maintain and improve healthcare systems that are under increasing pressure due to resource constraints and rapid population growth.
To encourage delegates to learn about quality improvement initiatives, WISH presented its research report: Transforming Patient Safety: A Sector-Wide Systems Approach . WISH also conducted a survey asking people to identify what elements and barriers they deemed most critical to improve patient safety culture in the Middle East.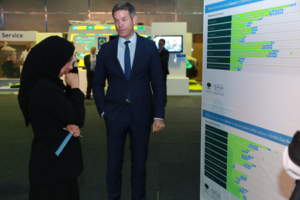 H.E. Dr. Hanan Al Kuwari, Qatar's Minister of Public Health, speaks with Mr. Egbert Schillings, WISH CEO,
at the Middle East Forum in Patient Safety.
The response was overwhelming and reflected earlier findings of a WISH report on patient safety: leadership commitment, staff engagement, communication, teamwork and patient safety training were most frequently cited as the most important factors to improve patient safety culture in the Middle East.
The findings imply that strategic planning for the continuous improvement of patient safety culture should be carried out in both a top-down (leadership buy-in) and bottom-up (staff engagement) strategy, through various communication channels, teamwork and training.
Healthcare professionals agreed on the need to overcome barriers such as fear of legal punishment and fear of career damage in order to develop a culture of transparency and trust to improve patient safety in this region.
Delegates also identified the need to create inter-professional networks to share the knowledge about quality improvement initiatives. More detailed information about results is shown below: