"The global escalation of conflict has led to an emerging trend of attacks on healthcare workers and healthcare systems as a whole," said Maha El Akoum, Head of Content and Research Fellow at World Innovation Summit for Health.
"Targeted attacks on health facilities have been observed in Syria, Iraq, Yemen, South Sudan, and other conflict-affected countries over the past few years. In 2018 alone, there were at least 973 attacks on health workers, health facilities, and health transports in 23 countries in conflict around the world."
El Akoum, along with Mahmoud El Achi, Head of Innovation at World Innovation Summit for Health (WISH), were in Muscat recently to attend the 43rd World Hospital Congress, which focused on People at the Heart of Health Services in Peace and Crisis.
At the event, El Akoum presented a poster depicting healthcare in conflict settings. The poster, based on a 2018 WISH report titled Healthcare in Conflict Settings: Leaving No One Behind, was one of the Best Poster award winners. It provided an easy-to-use overview of the report content, including the case studies used and the report's recommendations for providing healthcare to conflict-affected populations.
"The 2018 WISH report emphasized healthcare in conflict as a basic human right. It also provided a framework of available solutions with the aim of advancing universal health coverage amongst conflict-affected populations," said El Akoum.
At the four-day event, the team from WISH, an initiative of Qatar Foundation (QF), also gave attendees an overview of Qatar's lead in supporting healthcare innovation to global hospital and health service leaders.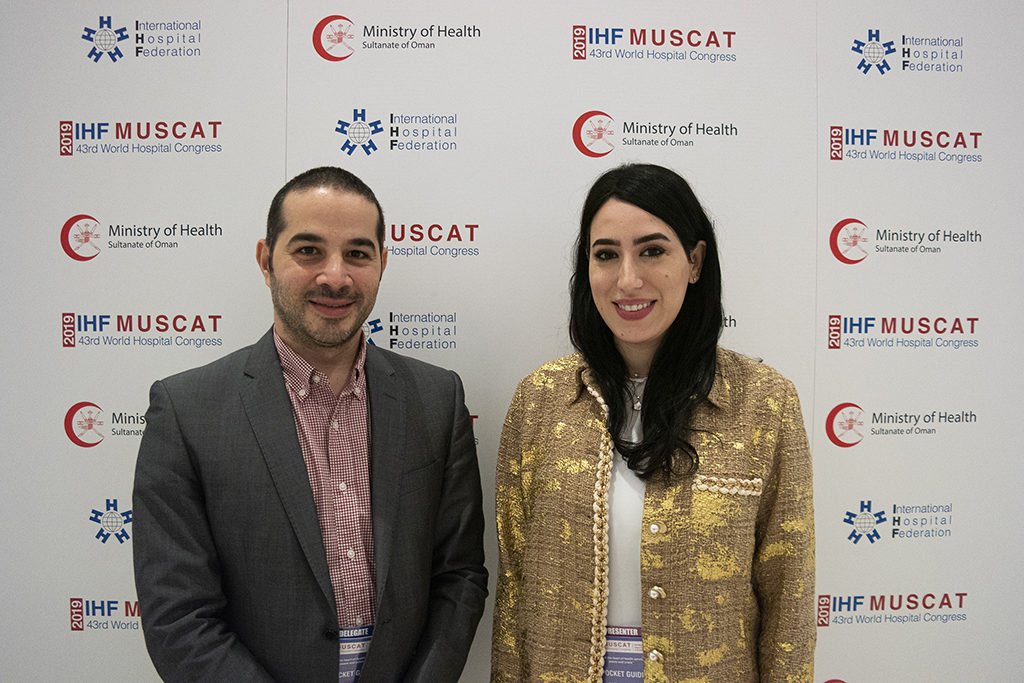 They shared how Qatar has successfully created an environment that encourages innovation across all its key sectors, one of the foremost being healthcare. Delegates learnt how national hubs and incubation centers such as Qatar Science & Technology Park – part of Qatar Foundation Research, Development, and Innovation – attract the region's best talent.
"The event in Muscat offered a great opportunity to share success stories from Qatar with a global audience," El Achi said. "At WISH, we believe that innovation is a key for our future, and innovation should be the heart of healthcare. By fostering technology and innovation we can improve our healthcare ecosystem, reduce the cost, increase efficiency and accuracy, and save lives."
The presentation also touched on WISH's efforts in bringing together healthcare innovators, policy makers, and investors to share ideas as well as form fruitful partnerships – efforts that have led to the creation of two WISH-led competitions for sector innovators, one for startups and one for established companies seeking to scale up.         
Additionally, the meeting highlighted the support given by WISH and QF's Stars of Science to help promote and develop Klens, a surgical laparoscope developed by Kuwaiti Dr. Ahmed Nabeel that automates the cleanup process for surgical tools, reduces time spent on surgeries, and makes operating easier for the surgeon.
Other innovations, such as Baseer, an Omani innovation that helps visually impaired people to read and write in Arabic and English, and Ten Moons, a Qatari-developed app for pregnant women, were also highlighted at the meeting.
The 2019 edition of the biennial congress of the International Hospital Federation was hosted by the Ministry of Health of the Sultanate of Oman from November 6-9.