When Sultana N. Afdhal assumed her role as the Chief Executive Officer of WISH, she did so with a strong commitment to building robust relationships with local and international organizations that share a common goal – a healthier world through global collaboration.
Twelve months on, and it is clear that this determination has borne fruit.
Ms. Afdhal is particularly delighted that senior representatives of the World Health Organization (WHO) will be attending WISH 2018 – to be held in Doha, Qatar on November 13-14 – and will participate as panel speakers on research forums.
"The WHO is at the core of global health policy, so to be able to welome such high-ranking figures as regional directors, the WHO chief nursing officer, and the executive director of WHO's Global Health Workforce Alliance is a striking endorsement of WISH and our parent organization Qatar Foundation."
Dr. Ahmed Al-Mandhari, WHO Regional Director for the Eastern Mediterranean, will speak at the 'Healthcare in Conflict Zones' forum, which will focus on the challenges faced by healthcare providers who operate in war zones, and ways to address them.
Dr. Al-Mandhari, who is Omani, and has made a substantial contribution to the development and modernization of his nation's health system, particularly in areas such as patient safety.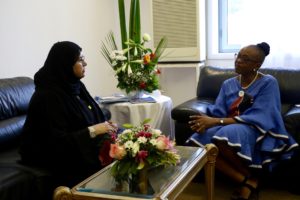 Botswanan Dr. Matshidiso Moeti, the first female WHO Regional Director for Africa, will also attend WISH 2018. With more than 35 years of national and international experience, Dr Moeti is a public health veteran committed to accelerating universal healthcare coverage (UHC) and progress towards global development goals.
As the first Qatari CEO of WISH, Ms. Afdhal has sought to position this year's summit as a convening point for global health leaders to meet as one community and share experiences. The presence of regional WHO directors suggests that she has succeeded in this mission.
"We are truly honored to receive Dr. Al-Mandhari and Dr. Moeti at our upcoming summit," said Ms. Afdhal. "They represent the two regions of the world with the highest levels of conflict, as well as the most pressing healthcare challenges. I'm sure that the perspective they bring to our discussions will be unique and informative, and hopefully we will take away lessons that can be applied in improving global healthcare systems."
Dr Moeti will speak at the WISH 2018 'Nursing and UHC' forum, where panelists will examine how individual nations can help the expansion of UHC by increasing investment in nursing and midwifery. The discussion will also highlight some of the current barriers to progress, and recommend ways of overcoming them.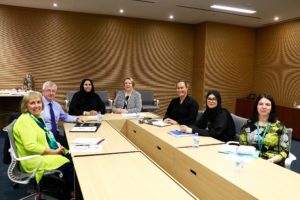 Nursing is a subject of special interest to Ms. Afdhal, who is an advocate of empowering nurses to take up leadership roles in the healthcare sector. As WISH CEO, she has striven to promote the profession in Qatar and the MENA region. Under her stewardship, WISH joined forces with Hamad Medical Corporation (HMC) in March 2018 to launch 'Nursing Now Qatar'. A global campaign run in collaboration with the International Council of Nurses and the WHO, the Qatar chapter of Nursing Now is the first of its kind in the Gulf region. Earlier this year, Ms. Afdhal also addressed the importance of promoting nursing at a health policy forum held in Amman, Jordan, entitled 'Investing in the Nursing Workforce'.
Ms. Afdhal has quickly established herself amongst the network of global health leaders since assuming her position as CEO of WISH. In September, she represented the organization at the 68th session of the WHO Regional Committee for Africa in Dakar, Senegal, and briefed ministers and other high-level delegates about the upcoming WISH 2018 summit.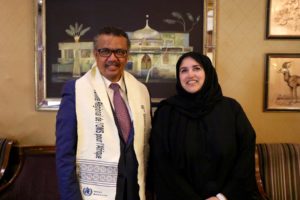 In her former capacity as the Partnerships and Outreach Manager at WISH, Ms. Afdhal's expertise in forging valuable collaborations was brought to the fore. She established strong relationships between the organization and major local stakeholders including HMC, the Ministry of Public Health, the Ministry of Education, and the Supreme Committee for Delivery and Legacy. In particular, she placed significant emphasis on the creation and implementation of innovative learning programs for children in Qatar with autism and other special needs, driven by a desire for WISH to have a positive impact in her home country.
"My previous role helped me fully understand the key vision and purpose of WISH. It helped me realize the importance of working in collaboration with diverse organizations to realize our shared goals," she said.
"Over the years, WISH has commissioned a number of reports aimed at improving global health. Sometimes these reports produce recommendations that, if implemented, can in some way benefit the population here in Qatar. Where this is the case, I believe we have a duty to work with other stakeholders to deliver positive change.
"We are very fortunate to have leaders in the healthcare sector in Qatar who are open to using innovation for the benefit of the local population. This means that we have faced support rather than resistance when we've proposed a number of initiatives, such as inclusive sports programs for children with complex needs, or one-stop centers that focus on prevention – as well as management – of diabetes."
Ms. Afdhal has also been instrumental in forming partnerships with a diverse range of international organizations that have an interest in societal health and wellbeing, including the WHO and the Carter Center, founded by former U.S. President Jimmy Carter and former First Lady Rosalynn Carter to improve global health and promote peace.
"Whether it comes from attending conventions in Dakar, London or Chicago, I have a deep and pressing realization that healthcare does not know or care about geographical boundaries," Ms. Afdhal said. "It doesn't matter if we talk about mental health issues or the difficulties faced by healthcare providers in conflict zones – urgent challenges exist everywhere, and they deserve our immediate attention and action."
WISH 2018 will provide further opportunities for around 2,000 local and international healthcare experts, innovators, entrepreneurs, policymakers and ministers to explore areas of collaboration and work towards shaping the future of global healthcare.
The summit will welcome delegates from over 100 countries. Its keynote speakers are the former Irish President Mary Robinson, former British Foreign Minister David Miliband, who is now president and CEO of the International Rescue Committee, and Michael Phelps, the most successful Olympian of all time. Numerous other notable experts in the field of global healthcare will also participate, including senior representatives of international organizations such as Save the Children, Talk Space and The Carter Center.
"We look forward to welcoming world leaders in healthcare to WISH 2018, and hope that we all benefit from mutual learning experiences," Ms. Afdhal said. "Creating a secure and sustainable future for global healthcare is our collective responsibility. Therefore, we must exert our united efforts to advance strategic collaborations and explore the optimum approaches to realizing our goals."