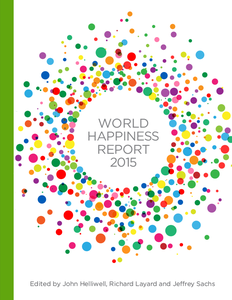 WISH research explores link between childhood mental wellbeing and later life happiness in key report chapter, 'Healthy Young Minds'
Doha, Qatar (4 May 2015): The much anticipated World Happiness Report has been published for the third time, once again calling for a rethink of how our governments and society gauge their success, wealth and happiness. Produced by the Sustainable Development Solutions Network (SDSN), this year's report features unique research on the mental health of children and their psychological wellbeing, undertaken by the World Innovation Summit for Heath (WISH), an initiative of Qatar Foundation for Education, Science and Community Development (QF), to offer new and essential insights on tomorrow's adults.
Professor Richard Layard, co-editor of the World Happiness Report, was appointed by WISH to chair the Mental Health and Wellbeing in Children Forum, which produced world-leading research on the fragility and significance of mental wellbeing in children. This research has been included as a chapter in the World Happiness Report, offering actionable recommendations for policy makers around the world.
On behalf of WISH, Professor Layard led a team of experts from around the world as they collaborated to explore new approaches to improving mental wellbeing in children and young people. The research looked at how the wellbeing of children must become a major priority for every nation and work must start within communities, healthcare systems and schools. The report shows that one in ten young people under 18 has a diagnosable mental illness such as depression, anxiety and conduct disorder – amounting to 220 million worldwide. Of these, more than half will go on to develop mental illness in adult life and have a three times higher risk of being involved in crime, drug abuse or suicide.
The WISH research calls for childhood mental illness to be taken as seriously as physical illness and recommends the use smartphone technology to make education and support programs accessible to all.
Downloaded over 2.5million times already, the World Happiness Reports have been hugely influential in stimulating a new worldwide demand for greater attention to happiness as a key criterion for government policy. As it continues to review the state of happiness in the world today and offer benchmarks for progress, the inclusion of WISH's report is a significant milestone that underscores the world-leading research being produced by this relatively young, Qatar Foundation initiative.
Professor the Lord Darzi of Denham, Executive Chair of WISH, said: "For the World Happiness Report to consider our report on Mental Health and Wellbeing in Children significant enough to dedicate a whole chapter to is testament to the vision, action and dedication of our global WISH community. By harnessing experts from all over the world and focusing on health challenges that affect everyone we are producing valuable and practical recommendations. This particular chapter shows how important it is for countries to nurture, encourage and support our younger generations to build strong, successful and happy societies for the future."
Qatar Foundation has created a unique, integrated learning environment. Starting as young as six months, local students are immersed in a culture of learning that nurtures their creativity and innovation, prioritizing their success and happiness encouraging them to become the future leaders of Qatar through school models of excellence.
The World Happiness Report highlights how schools "should have a well-being code, agreed by every teacher, parent and child, and this should influence the whole ethos of the school." Here in Qatar this approach is already in use with Qatar Academy offering students access to a counselor whenever they need to, ensuring students always have someone to talk to in a confidential and protected environment.
Through the provision and promotion of academia, sports, extracurricular activities, healthcare, community events, music, theatre and more, Qatar Foundation are ensuring success and happiness of many generations to come, in line with Qatar's National Vision of investing in human capital.
Engineer Saad Al Muhannadi, President of Qatar Foundation, said: "It is our mission at Qatar Foundation to ensure each one of our students has the opportunity to develop a strong foundation of knowledge and experience a happy childhood that will help them succeed in the next stage of their life. The work undertaken by WISH as part of the World Happiness Report allows us to deliver on this mission.
"By continuing our unwavering commitment to the next generation's wellbeing, happiness and health, we ensure our students are guided towards fulfilling their aspirations, contributing to their communities and competing on a local and global level."
WISH inspires and diffuses healthcare innovation and best practice. It remains closely aligned to the vision and mission of QF to unlock human potential and reinforces Qatar's pioneering role as an emerging center for healthcare innovation.
For more information about WISH and to view the Wellbeing in Children report, please visit www.wish.org.qa.

***ENDS***

Notes to Editors:
For more information please contact:
Noha El Afify
WISH Communications Manager
[email protected]
About the World Innovation Summit for Health:
The World Innovation Summit for Health (WISH) is a global healthcare community dedicated to capturing and disseminating the best evidence-based ideas and practices. WISH is an initiative of Qatar Foundation for Education, Science and Community Development (QF) and is under the patronage of Her Highness Sheikha Moza bint Nasser, its Chairperson.
The inaugural WISH Summit took place in Doha in 2013 and convened more than 1,000 global healthcare leaders. Through annual Summits and a range of ongoing initiatives, WISH is creating a global community of leading innovators in healthcare policy, research and industry.
Together, they are harnessing the power of innovation to overcome the world's most urgent healthcare challenges and inspire other stakeholders to action.

Qatar Foundation – Unlocking Human Potential
Qatar Foundation for Education, Science and Community Development is a private, non-profit organization that is supporting Qatar on its journey from a carbon economy to knowledge economy by unlocking human potential for the benefit of not only Qatar, but the world. Founded in 1995 by His Highness Sheikh Hamad Bin Khalifa Al Thani, Amir of Qatar, QF is chaired by Her Highness Sheikha Moza bint Nasser.
QF carries out its mission through three strategic pillars: education, science and research, and community development. QF's education pillar brings world-class universities to Qatar to help create an education sector in which young people can develop the attitudes and skills required for a knowledge economy. Meanwhile, its science and research pillar builds Qatar's innovation and technology capacity by developing and commercializing solutions through key sciences. Finally, its community development pillar helps foster a progressive society while also enhancing cultural life, protecting Qatar's heritage and addressing immediate social needs in the community.
For a complete list of QF's initiatives and projects, visit http://www.qf.org.qa
For more information about Qatar Foundation please contact our press office at [email protected].
About the Sustainable Development Solutions Network (SDSN):
Launched by UN Secretary-General Ban Ki-moon in August 2012, the Sustainable Development Solutions Network (SDSN) mobilizes scientific and technical expertise from academia, civil society, and the private sector in support of sustainable development problem solving at local, national, and global scales. We aim to accelerate joint learning and help to overcome the compartmentalization of technical and policy work by promoting integrated approaches to the interconnected economic, social, and environmental challenges confronting the world. www.unsdsn.org