World Innovation Summit for Health (WISH) today publishes report on the need for advancing Patient Safety to put an end to avoidable deaths
Doha, Qatar (17 February 2015): It's the third biggest killer in the US and costs $1trillion a year. Errors in patient safety rank third only to heart disease and cancer claiming 400,000 lives each year – the equivalent to two jumbo jets every day¹. Patient Safety is clearly a serious global public health issue and yet is often over-looked in national policy and global agendas.
A report published today by the World Innovation Summit for Health (WISH), a global initiative of Qatar Foundation for Education, Science and Community Development, aims to change this by identifying reasons for the on-going heartbreak of preventable harm in healthcare and offering solutions to bridge the gaps prevalent in today's approach to Patient Safety.
Failure to address the growing concern of Patient Safety contributes to waste in the healthcare system and sky-rocketing costs, world leading experts said today. It is estimated that as much as one-third of all US healthcare spending was consumed by waste in 2011. WISH's global experts identified key issues such as a lack of regulation, understanding and integration as well as offering a range of innovative solutions that will provide recommendations to global policy makers.
Patient Safety has historically been recognised as a significant area for improvement in healthcare systems around the world but despite decades of evolving practice and trillions of dollars in investment there are still too many incidents of harm and even deaths. Intensive care units, operating rooms, emergency rooms and clinics are packed with an ever-increasing number of devices that do not talk to each other. Now, more than ever, Patient Safety could truly benefit from a more holistic approach both in developed and less-developed regions; initiatives in the UK have reduced MRSA by 90% whilst the current Ebola outbreak required the new thinking around challenge of waste disposal and protection of workers in under-resourced regions.
In an effort to improve patient safety through an holistic, sector-wide perspective, Dr Peter Pronovost, Senior Vice President for Patient Safety and Quality, and Director of the Armstrong Institute for Patient Safety and Quality at John Hopkins Medicine in the United States, oversaw a team of distinguished international experts, drawn from every field of patient safety to inform and produce today's unique report.
Dr Pronovost said: "For too long in healthcare, the mind-set has been that patient harms are inevitable, that silos are natural, and that heroism rather than thoughtful design keeps patients safe.
Through the work undertaken behind today's WISH report it is clear that what is missing is a systematic, sector-wide approach, underpinned by sound principles in safety science. In their current state, healthcare systems too often harm rather than help."
"In our WISH report we advocate for a holistic system solution to eliminate preventable harm in healthcare. Patient safety is – or should be – one of the fundamental building blocks of every healthcare system."
With the appointment of Dr Pronovost as Patient Safety Forum Chair, WISH aims to examine how incidences of avoidable harm could be reduced. Through their research different approaches to improving patient safety were reviewed providing recommendations to enable policy makers to better prioritise changes that will improve safety, experience and outcomes for patients, crucially saving lives and reducing the burden on healthcare budgets.
The issues addressed in WISH's Patient Safety report include an exploration of how a systems integration approach can improve patient safety; how health systems can be designed, procured and delivered to enhance patient safety, experience and outcomes; the human and economic costs of safety failings; and learning from other high-risk sectors such as aerospace and defence.
Professor The Lord Darzi of Denham, Executive Chair of WISH, said: "Estimates show that in developed countries as many as one in 10 patients is harmed while receiving hospital care. Our report reveals that patient safety is not just a personal responsibility for patients and doctors to tackle themselves, but it is also a major policy issue. The work undertaken by Dr Pronovost and his team on behalf of WISH provides solid evidence and new perspectives that will support the efforts of policymakers trying to improve their healthcare system's safety record and patient experience."
Patient Safety is one of eight reports being presented at the 2015 WISH Summit taking place in Qatar, where leading international health experts are joining an influential community of heads of state, government ministers, academics, clinicians, policy makers and business leaders to discuss innovative solutions to some of the most pressing global health challenges.
As well as Patient Safety, WISH will publish reports on Communicating Complex Health Messages, Diabetes, Delivering Affordable Cancer Care, Dementia, Universal Health Coverage, Mental Health and Wellbeing in Children, and Maternal and Newborn Health.
WISH is spearheaded by Qatar Foundation to inspire and diffuse healthcare innovation and best practice. It remains closely aligned to the vision and mission of QF to unlock human potential and reinforces Qatar's pioneering role as an emerging center for healthcare innovation.
To download the reports and watch the research discussions that taking place at WISH, please visit www.wish.org.qa.
¹http://journals.lww.com/journalpatientsafety/Fulltext/2013/09000/A_New,_Evidence_based_Estimate_of_Patient_Harms.2.aspx
ENDS
Notes to Editors:
For more information please contact:
Noha El Afify
WISH Communications Manager
[email protected]
+974 7768 6624
Transforming patient safety: a sector-wide systems approach
THE REPORT'S FOCUS
The Forum report highlights how leveraging ideas from other safety-conscious industries can be used to improve patient safety within healthcare. Drawing on comparisons with these other industries and the WISH forum members, the report postulates that the following themes must be addressed to realize patient safety in healthcare:
Policy and regulation help rather than hinder safety improvements and ensure that minimum patient safety standards are maintained
Patient safety is a core value of the culture
Leadership influences patient safety at all levels of healthcare
Education leads to informed decision-making and system resilience
Transparency and open disclosure are professional expectations
Metrics are used to evaluate progress and success
Technology facilitates healthcare without constraining it
Patient safety is sustainable
Patients and their families are engaged partners in patient safety
Patient safety research is transdisciplinary.
These themes are enablers to move healthcare from its current state into one where preventable harm is eliminated. They are interdependent and must be approached in an integrated fashion.
REPORT INSIGHTS
There is a need for a systematic, sector-wide approach to patient safety, underpinned by sound principles in safety science. To help drive change and improvements in patient safety, the Forum report identifies five system-level gaps to be addressed. These can be briefly summarized as: a holistic sector-wide approach; system integrators; risk assessment and performance reporting; patient safety regulation and transdisciplinary science for safety. The global healthcare community needs to acknowledge these gaps and develop a plan (within a systems context) to address each issue.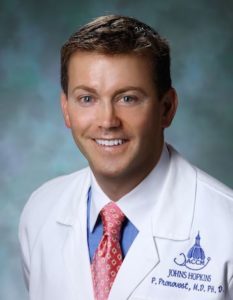 THE FORUM CHAIR
Peter J Pronovost, MD, PhD, FCCM
Senior Vice President for Patient Safety and Quality and Director of the Armstrong Institute for Patient Safety and Quality, Johns Hopkins Medicine
Peter Pronovost is a practicing anesthesiologist and critical care physician who is dedicated to finding ways to make hospitals and healthcare safer for patients. In June 2011, he was named Director of the new Armstrong Institute for Patient Safety and Quality at Johns Hopkins, as well as Johns Hopkins Medicine's Senior Vice President for Patient Safety and Quality.
Pronovost has chronicled his work to improve patient safety in his book, Safe Patients, Smart Hospitals: How One Doctor's Checklist Can Help Us Change Health Care from the Inside Out. In addition, he has written more than 400 articles and chapters related to patient safety and the measurement and evaluation of safety efforts. He serves in an advisory capacity to the World Health Organization's World Alliance for Patient Safety.
Dr Pronovost has earned several national awards, including the 2004 John Eisenberg Patient Safety Research Award and a MacArthur Fellowship in 2008. He was named by Time magazine as one of the world's 100 most influential people and frequently addresses Congress on the importance of patient safety.
About the World Innovation Summit for Health:
The World Innovation Summit for Health (WISH) is a global healthcare community dedicated to capturing and disseminating the best evidence-based ideas and practices. WISH is an initiative of Qatar Foundation for Education, Science and Community Development (QF) and is under the patronage of Her Highness Sheikha Moza bint Nasser, its Chairperson.
The inaugural WISH Summit took place in Doha in 2013 and convened more than 1,000 global healthcare leaders. Through international summits and a range of ongoing initiatives, WISH is creating a global community of leading innovators in healthcare policy, research and industry.
Together, they are harnessing the power of innovation to overcome the world's most urgent healthcare challenges and inspire other stakeholders to action.
Qatar Foundation – Unlocking Human Potential
Qatar Foundation for Education, Science and Community Development is a private, non-profit organisation that is supporting Qatar on its journey from a carbon economy to knowledge economy by unlocking human potential for the benefit of not only Qatar, but the world. Founded in 1995 by His Highness Sheikh Hamad Bin Khalifa Al Thani, The Father Emir, QF is chaired by Her Highness Sheikha Moza bint Nasser.
QF carries out its mission through three strategic pillars: education, science and research, and community development. QF's education pillar brings world-class universities to Qatar to help create an education sector in which young people can develop the attitudes and skills required for a knowledge economy. Meanwhile, its science and research pillar builds Qatar's innovation and technology capacity by developing and commercialising solutions through key sciences. Finally, its community development pillar helps foster a progressive society while also enhancing cultural life, protecting Qatar's heritage and addressing immediate social needs in the community.
For a complete list of QF's initiatives and projects, visit http://www.qf.org.qa
For more information about Qatar Foundation please contact our press office at: [email protected]