By Dr. Khor Kang Xiang, WISH 2018 Young Innovator                      
Good day, I'm Khor and here I would like to share the story of my invention. It is all started five years ago, when I first visited a stroke center. There, I saw a lot of patients suffering from strokes, and they were working hard to perform rehabilitation training. I looked around and realized that the tools they were using to perform rehabilitation training were very limited and basic, especially for this modern day and age.
I particularly noticed one patient, he was as young as me, but was dragging his leg while walking in the center. Having stroke, even walking require an enormous effort. That is when I found my calling: I chose to use the skills he had gained during his studies to help stroke patients recover faster. Although I was just an engineering student at that time, I wanted to make a different and change this situation. I decided to build a rehabilitation robot. There are rehabilitation robots available in the market, however mostly they are huge, complex and expensive. Many people cannot afford it. In Malaysia itself, there are 52,000 stroke patients every year. And the time when I embarked this journey, there were only less than 10 rehabilitation robots available in the whole country, and how could these benefit such a huge amount of patients every year? In fact, each year there are 800,000 of stroke patients in the US, and close to 2 million in China. Worldwide, 15 million people suffer strokes every year. To put this number into perspective, in the next 60 seconds, 28 people around the world will have a stroke. This is a huge problem that I hoped I could help to solve.
This is what led me to build the invention of compact and portable rehabilitation robot, so that everyone can have access to robotic rehabilitation easily, to recover from strokes. I started my journey during the third year in university. I didn't know what to build in the first place or where to start. So I visited many hospitals, rehabilitation centers and clinics to better understand the limitations and problems they faced. I then spent years building close to 10 prototypes before getting the final design of CR2-Haptic.
CR2-Haptic is a compact, portable and reconfigurable robot for forearm rehabilitation training. It enable patient to train their hand while playing the virtual reality game in the computer. At the same time it can provide assistance for the patient to move when they need it, act like a physiotherapist. CR2-Haptic robot can be customized for different recovery stages of patient by providing multiple training modes and changeable handle for different training movement. Because it is portable, it can be used almost everywhere, even at home.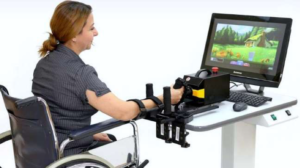 With CR2-Haptic, we opened ways for more patients to train with robotic rehabilitation training. In stroke rehabilitation, repetitive training is very important for good recovery process, but it also very time consuming for the therapist. Thus, this robot, enables the therapist to provide consistent repetitive training for many patients at the same time, for an extended period of time. This help to maximize therapists time, so that they can handle more complex treatment which require their attention. With this robot, therapists will even be able to provide treatment remotely through telerehabilitation, in the upcoming future.
One of our study showed an improvement of 70% in the active range of movement of patients after they trained for a period of 6 weeks. Throughout the trial, they received good feedback from users, where the robot helped motivate them to train more and enabled them to easily focus on the training movements during the rehabilitation session. He was excited to see that CR2-Haptic robot can even benefited stroke patient as young as 10 years old in the rehabilitation center. We published over 10 publications including in Q1-ranked journals. To date, CR2-Haptic had won over 30 innovation awards including World Invention Awards at British Invention Show, King SeJong Inventor awards in Korea Inventor Award and Best of R&D in Asia-Pacific ICT Award, Sri Lanka (Merit).
While there were many obstacles and challenges along journey, but when I recall the smile of our patients while they are using the device, all the hardship is worth it. That is what motivates me to keep moving forward.
We looking for potential collaborator to further explore CR2-Haptic benefit for more people across the world. I'm glad to able to be join WISH 2018, as ONE community to collaboratively work to achieve ONE goal: a healthier world.
For more information about CR2-Haptic, please log on to www.techcareinnovation.com. Thank you and see you there.
Video for CR2-Haptic: http://bit.ly/2PxLYZ5
————–
Dr. Khor Kang Xiang is major in robotics and he started to build rehabilitation robot since 2012 with the aims to help stroke survivor to recover faster using the innovation of healthcare technology. He has spoken at TEDx twice and he is the co-founder of Techcare Innovation Sdn Bhd, a company that develop compact and portable rehabilitation robot for people who need rehabilitation training. He invented a rehabilitation robot; CR2-Haptic; a portable and reconfigurable rehabilitation robot for forearm rehabilitation training.